Newports stunning locat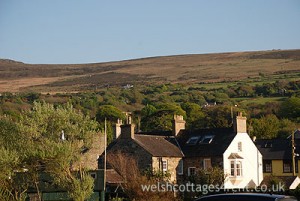 ion between the Preseli Mountain of Carn Ingli and the seascape of  Cardigan Bay is already a feast for the eyes. But for those inclined to venture there are several beautiful features close by and many interesting historical sites. The best place to start is by dropping in to the visitor centre on Long Street. Where there is a wealth of information. However a few favourites are listed below.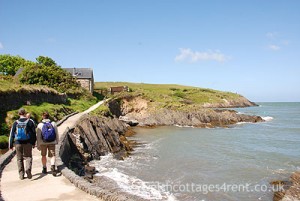 On the periphary of the town as you head towards the Iron Bridge is Carreg Goetan the remains of an ancient burial chamber. For sheer old world charm a stroll along the Coastal Path from Parrog to Cwm with its old lifeboat house is a pleasant walk and not too strenuous and on the return if you time it right you can gaze upon a fantastic sunset over Dinas Head.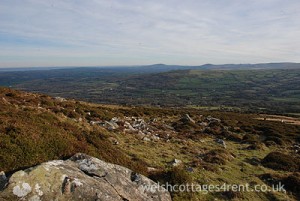 To really appreciate Newports location and if you are able a hike to the top of Carn Ingli gives you a superb panorama of the Preseli mountains to the East and South out across the Irish Sea and down below to the  town and the estuary. On a clear day it is possible to make out Mt. Snowdon all the way to the North. If you descend by heading west you may be able to find the 'Wishing Well' which is actually a small water filled natural bowl in a crevice in the rocks where legend has it if you place a pin your wishes will come true.
If you head to the coast you have Pwllgwaelod and Cym-yr-Eglwys on either side of Dinas Island and heading back to Newport, you have the secluded coves of Aberfforest and Aberhigian, on the path back to the main road South of Aberhigian there is a beautiful waterfall nestling amongs ancient woodland.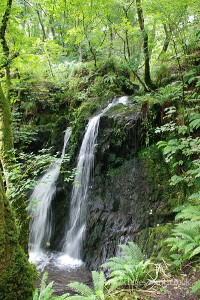 Further north up the coast is Ceibwr and the 'Witches Cauldron' near  Moylegrove, the cauldron is actually a sea cave where the roof has collapsed revealing a natural sea lagoon which fills with the tide.
The coast is not the only outstanding geography if you head inland on the Nevern Trail you wend your way though ancient forest and pass 'The Pilgrims Cross' carved in the rocks beleived to be at least pre-Norman.