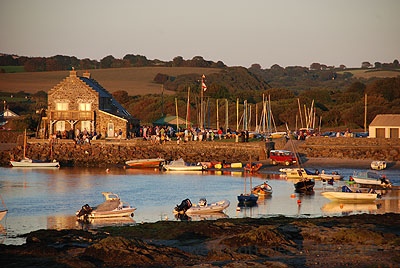 Newport is a picturesque coastal town between Fishguard and Cardigan It boasts both a Norman Castle and Church, which stand proudly above this small medieval town on the slopes of Carn Ingli mountain. Ancient streets and pathways lead directly to the river Nevern (Nyfer) Estuary teeming with wildlife.
Circular walks from the town lead the visitor to the heights of Carn Ingli (Mount of Angels) with splendid vistas to Snowdonia, the Wicklow Mountains and St. David's Peninsula. Newport is on the Pembrokeshire Coast Path with its abundance of wild flowers and secret sheltered coves.
It has good restaurants and pubs and all the local shops you would expect and some you wouldn't including Local Craft Galleries and Healthfood shops.
Overview:
The ancient township of Newport lies  between the north facing slope of Carn Ingli and the south bank of the River Nevern estuary, surrounded by diverse and beautiful landscapes. Situated on the edge of the Preseli Hills within Britain's only coastal National Park, the countryside here is rich in local and natural history. The well-planned walks enable visitors to enjoy the town, the nearby hills and the coastal scenery. The town offers a whole variety of attractions from prehistoric burial sites to an up-to-date eco centre. Newport's location makes it a popular centre from which to visit the whole of North Pembrokeshire.
Origins:
The area abounds with evidence of its early inhabitants. Carreg Coetan Arthur is a Neolithic burial chamber or cromlech. Both Carn Ingli and Carn Ffoi are sites of an Iron Age fort and hut circles. The 6th century Saint Brynach is said to have climbed Carn Ingli to 'converse with angels'. The Welsh name for Newport is Trefdraeth `the township on the shore'. This early settlement was at Parrog and the Normans founded the 'garrison' town of Newport later.