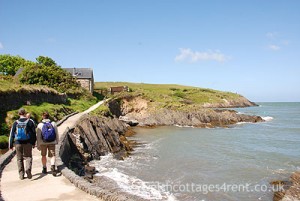 WALKING and HIKING. Newport is situated on the breathtaking Pembrokeshire Coast Path, providing miles of magnificent walking with a dedicated bus service for return to Newport from many points. Newport also nestles below the Preseli Mountains and is in the National park where you can ramble for miles surrounded by natural vistas that take your breath away. There is an excellent bus service and a wealth of information at www.visitpembrokeshire.com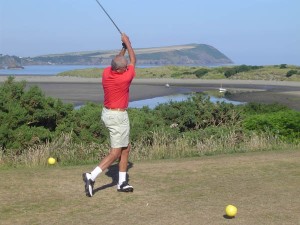 GOLF. Newport Links golf course is just North of the town over the Iron Bridge spanning the estuary, a truly enjoyable and testing links course. Recently it has ben extended to an 18 hole course with two distinct loops of 9 holes. The front 9 having superb elevated views of the Town nestling under Carn Ingli and Newport Bay and the original back 9 offering true links golf with some fine holes including a challenging par 3 almost in the dunes. Almost every tee and green have fantastic sea and or mountain views. More details are available on the links page
ANGLING. Along with the obvious wealth of sea fishing on offer. There is also the opportunity to fly fish on the River Nevern where you may catch Sewin (Sea Trout) in the season. Also you can fish the estuary on fly or otherwise for Bass, Mullet and many other species.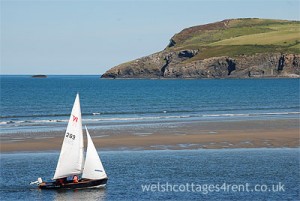 BOATING. The boat club  is situated right on the sea wall at 'Parrog'. It is easily found by following Parrog Road to its very end. Visitors' moorings are usually available at £20 per week, and there are three launching slipways on the Parrog with free parking. See www.newportboatclub.co.uk for further details
BIRDWATCHING. The estuary is an extremely popular area for 'twitchers' with waders, raptors, ducks, geese, gulls, terns, cormorants, herons, kingfishers with the occasional rarity or two some of the best viewing is easily accessed right beside the road where the Iron bridge spans the upper reaches of the estuary. More information HERE
PAINTING and PHOTOGRAPHY. The Town and its wealth of beautiful land, and seascapes offer insparation at every turn in all seasons. If you dont want to produce your own work the craft shops are full of exciting and original pieces.
CYCLING. There are some stunning views to be gazed upon if you feel inclined to head up into the Preseli mountains and many quiet back country lanes winding their way through the hills. There are cyclng events held during the spring festival for mountain bikers and road cyclists alike. The terrain in the area can offer quiet trundles or truly challenging ascents and descents, the choice is yours.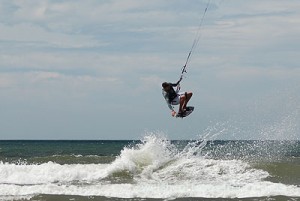 WINDSURFING and KITESURFING: Newport and the surrounding area offer a plethora of venues for these sports. From the ideal windsurfing learning ground of the estuary at high tide, to the challenging thrills of riding the waves in St Brides Bay to the South. A great resource with more detailed information on Newport and the surrounding beaches is HERE